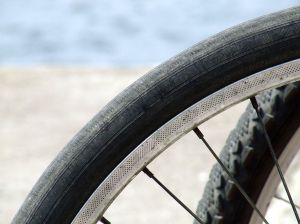 Wind blowing. Sun Streaming. Cyclists are the happiest beings on the road, next to dogs hanging their heads out of a moving car window.  Add the sound of the salty seashore waves with a rest stop to refuel and it's heaven on earth for the Southern Californian cyclist.
Here are the top 5 beach destinations on a bicycle.
Balboa Island — try the frozen banana on a stick, dipped in chocolate and a variety of toppings.  Then stroll onto the ferry.  Bicycle and Adult fee is only $1.25.
Point Vicente Interpretive Center – lots to see in this cliff side park setting.  Take in the panoramic ocean vista of Catalina Island and the lighthouse to the left.  Depending on the season, get a glimpse of the Pacific gray whale migration while pelicans and paragliders soar overhead.  Explore the museum and stroll along the hiking trails.
Fiesta Hermosa – it's a party and everyone's invited.  The Hermosa Beach Labor Day and Memorial Day is the "largest arts & crafts fair in Southern California." Plenty of free parking for bicycles. Replenish with ice cold lemonade, fish tacos, live music, Elvis sightings, and more.
Venice Boardwalk – relax while brunching at the Sidewalk Café.  Eat, drink, get a tattoo, and be merry.  It's front row seats to a circus on the beach. Or browse through the Small World Book store next door, then greet Conan the Librarian, the resident cat.
Malibu – plenty of celebrity sightings here. Cycle along the white sand's edge of Zuma beach.  And just an hour south on Cross Creek is the Malibu Country Mart.  Try the Malibu Kitchen and picnic amidst the gardens, fountains, and sculptures.
No wonder why dogs are so happy! Lets keep cyclist the happiest on the road. Come join us at the SBBC Bike Night on February 28th, 2014 for food, drinks and fun! For more information go to our events page at:
https://www.eventbrite.com/e/south-bay-bike-night-a-kick-ass-party-that-celebrates-bicycling-tickets-14364694187
Wanna know how you can become a sponsor at the SBBC Bike Night? Click here to check out our check out our sponsorship information package.