We're excited to work closely with Manhattan Beach Middle School, MBFD and MBPD for their 1st official Bike To School Day!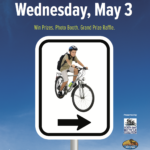 On May 3, all Manhattan Beach Middle School students are encouraged to Bike To School.
There will be a Biking School Bus going to school that day:
designated meetup spots where MBPD / MBFD will be helping to gather kids
meetup time will be 8:00 am and everyone will bike to school together at 8:15am
each "biking school bus" will have an assigned officer
please review the suggested bike route as reviewed by our Traffic Engineer 
Please make sure your kid is REGISTERED by April 28 so we can assign you a meetup spot
All students who bike to school this day will get:
Bike Safety class – May 1 during lunch time 12:45pm
Bike Safety Welcome table

answer trivia questions, learn to check tires
photo booth with street safety props
get prizes (hats / sunglasses etc.)

Join the raffle for a chance to win a new bike!
If your children are already riding their bikes to school, kudos to you and your children! Consider inviting other families who are not to join you on May 3rd ! If your children are not riding their bike to school, this is an opportunity to give it a try!
Review our bike safety tips document, and get your bikes and helmets tuned and ready to go! In addition to the health benefits associated with riding a bike, numerous studies show that kids who exercise before school starts are more focused and perform better in the classroom!